"There are things known, and there are things unknown, and in between are the doors of perception."- Aldous Huxley
Sometimes to know where you're headed, you need to first understand where you've been. That's the point of this page, plain and simple. Some past decisions have been successes, and some have not; but like the saying goes, "It's only a mistake if you choose not to learn anything from it." Let's choose to learn from our mistakes.
Our Debt: 101
The City currently has debt obligations totaling about $79.5 million. About $46 million is for water and sewer capital projects, and those are paid by fees generated for those services (the purple and green slices of the pie). What remains is $33.4 million of debt (the red and blue slices) which is paid back using money collected that goes into City's General Fund. In other words, the payments to that debt are funded by the general tax dollars we all pay (e.g., real estate taxes, sales and meals tax, etc.). About 2/3 of that $33.4 million of debt is for long since completed school projects, with the remainder to cover City capital costs (e.g., garbage trucks (new, repairs, etc.), heating and cooling units for city buildings, and so on).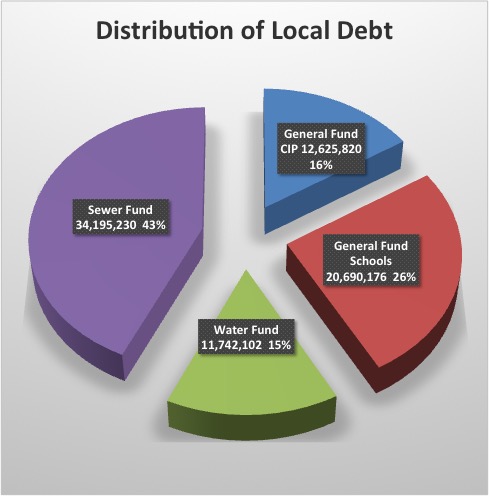 So how is it that a City of our size finds itself loaded with nearly 60% of its debt tied to core infrastructure like water and sewer systems? Simply put, we ignored it for as long as state and federal regulators would allow us.
Imagine what might happen if we were to continue that sort of logic for other City assets like schools, or equipment, or repairs? Fortunate for the City, we've have negotiated attractive interest rates for much of our current debt. That said, ask yourself…what happens when interest rates begin to rise, and we've not set aside adequate capital to begin the increasing number of re-investments needed for these other civic obligations? Chances are, we'll need to borrow money at higher interest rates, and our taxes will have to increase substantially over time to cover payments to the new debt. Sound familiar?
We simply can't afford to wait for our City leadership to play catch-up to the conversations, choices and decisions we have put off for too long. Our schools can't wait, our neighborhoods can't wait, our city employees can't wait, our children can't wait, our businesses can't wait, our future is here…it's time to plan our work and work our plan, and make the tough but pragmatic decisions that must be made. Our future is depending on ideas and creativity from beyond the boundaries of our City. I'm ready to help lead the conversation and to offer the perspectives of other communities I've worked with professionally, share their successes and failures, and develop a plan that's right-sized for Waynesboro. Our future is counting on us.
Our Finances: 101
The following tables, pie charts, etc. are my attempt at quickly communicating the condition of our shared community, and hopefully, clearly illustrate our history, and the consequences of those past decisions. Feel free to click any graphic for a larger view. By the way, each and every illustration found on this page is taken directly from data available from the City of Waynesboro Government Page (http://www.waynesboro.va.us). I've taken the time review over 16 years of financial and meeting minute data to understand where we've been. From minutes to budget reports, each and every graphic is verifiably sourced directly from city records.
The Waynesboro General Reserve Fund (aka Our Savings Account)
Some might call it a reserve fund, some might call it a savings account, and others a piggybank. Whatever you call it, maintaining a strong savings is not only critical to implementing a community's planned and prioritized investments, it's also critical to maintain adequate savings so that a city can pay its bills on time in the event of an emergency.
Did you know that in the period from 2002 to 2005, the Waynesboro savings account saw its largest and fastest withdrawal in our recorded history? Did you know that City Council during this period spent an astounding 57% of the entire City savings in less than 5 years? Even with warnings from external auditors to our own former city manager, the spend down kept going. To make matters worse, at the same time, as property values were increasing…City Council actually lowered real estate taxes from .98 to .70, essentially cutting the city real estate revenue, while (at the same time) spending 2/3 of our savings account, and taking on more debt?!?!? (See the decade in review below)
Like you, I could take my family on a pretty nice vacation if I spent 57% of our savings, but what happens when we get home? And there's a leak in the roof? Or the car won't start? Does this sound like responsible spending to you?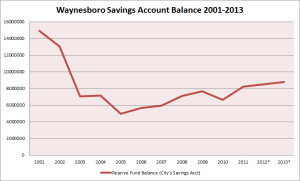 Today, our savings now tops $15 million. For perspective, it has taken 16 years to return to the savings balance that our City had in the year 2000. We can't do this again. It's time to develop a real plan, establish real priorities together, identify and then commit the resources our community needs to get the job done. Our future is counting on us.
Waynesboro Debt – A Decade in Review
At the same time City Council (2002-2006) nearly burned through our city savings account, they also lowered real estate taxes, and then incurred $54 million dollars of debt in just three years. Many of the projects are a result of our city deferring needs until we reached crisis stage. We can't return to an environment where we spend our savings, lower our revenue, and take on more debt. It's not only unsustainable, it's reckless. Let's start to plan our work, and work our plan right now.
Aug 2007 (Series 2007) $17,080,000 General Obligation Bond
Water System improvements $10,873,132
Sewer System improvements $564,660
Replace Fire engine $660,661
Parks $299,838
Jackson Wilson (Senior Center) upgrades $182,952
Stormwater Maintenance Equipment $558,238
Greenway Project $361,295
Bridge Maintenance $609,841
Land for Fire Station $124,436
Feb 2008 (Series 2008) $14,594,900 Sewer System Revenue Bond
Upgrades to the wastewater treatment plant, a pump station and sewer system upgrades (I&I)
Nov 2008 (Series 2008) $5,870,000 General Obligation Public Improvement Bond (Includes "Referendum" Projects)
Budget estimates for purposes of bond issuance (do not reflect final project costs):
Stormwater management improvements $535,000
Renovation to the library $1,248,000
Acquisition of land, design and construction of a fire substation $2,620,800 (most of which was diverted to Stormwater/Bridge projects by CC)
Delphine RR Bridge $16,217,741 (VDOT SYIP City share about 2%)
Broad Street Bridge Rehab $2,248,000 (VDOT Revenue Sharing approximately $1 million)
*You won't get the numbers to add up because 1) The projects may have cost more or less than originally estimated; 2) There were other sources of money available for the projects (i.e. prior bond proceeds, VDOT funding, interest earnings, etc.) 3) there are costs associated with issuing bonds.
Nov 2008 (Series 2008B) $2,125,000 Sewer System Revenue Bond
Upgrades and repairs to the City's sewer system (I&I)
Jun 2009 (series 2009) $14,624,858 Sewer System Revenue Bond
Wastewater Treatment Plant, pump station, Sewer system (I&I)
Waynesboro Debt on the Horizon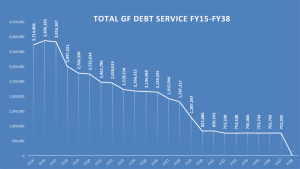 As you and I pay off that big purchase we made last year, we've got a choice to make. Do we apply that "new found money" we were committing to our payments, and move it to our savings? Spend it on another purchase? Or do we ask are employer to stop adding that amount to our pay check because we don't need it any longer?
If you're scratching your head on the last option, it's for good reason. What Waynesboro City Council's have done for a very long time, is lower the tax rate once we've satisfied a debt. When they've lower the rate, the savings is returned to the tax payer so that the money is moved from the city's bottom line, and returned to our household bottom line. On the surface that might sound great, and feel pretty good, after all…if the City doesn't have a need for it, why let them keep it right? Now ask yourself these questions…are there needs that have gone unaddressed for a really long time in the neighborhood you live in? How about our schools? What about public employee training and retention? Our infrastructure? Our park systems? Our economic development strategy?
We have significant savings on the horizon in our City, and we have a choice…(1) we can do what we've nearly always done and lower the tax rate and return the money to the tax payer….or….(2) plan our work and work our plan, and make the right sized investments that have been ignored for too long.
If you're like me and don't like how steep the rate increase curve is for things like our water/sewer bills…it's important to understand that the reason for the steepness is because we didn't start early enough to position ourselves financially to make the investments that had gone deferred for a really long time. We can't do this again. It's time to look at our upcoming debt savings, and prioritize the many needed investments we have now, and that are on the horizon. Our future is counting on us.
Waynesboro Neighborhoods and Neighbors
A standard city leader talking point on poverty in Waynesboro usually begins and ends with the spouting of the current free and reduce lunch rate in our schools. Then….that's it. No deeper discussion on the causes, the conditions, or how we're to deal with this alarming annual increase that is literally tearing at the fabric of our shared community.
For me, I'd like to have a serious talk about what city/state resources are available to start focusing on strengthening opportunities for all of our citizens to improve or development labor skills that might make them more competitive and more attractive to potential employment opportunities within our region. That sort of approach requires more than just saying there's a problem, it requires an examination of the problem, developing a plan, identify priorities, identifying and dedicating resources, implementation and examination of what went right and what went wrong with our plan, then making the necessary adjustments. I'm ready to start this conversation about our shared condition, and I've got ideas on how to start making serious and long overdue improvements to the most fragile parts of our community.
To follow are some illustrations of other facts that are directly related to the condition of high free and reduce lunch rates. The question I'd like to ask as a member of City Council is…are we going to just talk about the condition, or are we going to try and do something about it? I'm ready to do something, and I hope you are too. Our future is counting on us.
Our Schools – A Breakdown in Communication
Not talking about the condition and future of our school infrastructure didn't happen overnight, it's been a long time in the making. Wouldn't it make sense for our two elected bodies to sit down and discuss the future of our single largest budget item on a semi-regular basis? We're not talking about the annual powerpoint presentation of the School Superintendent to City Council, with maybe one or two School Board members sitting quietly in the audience…but an actual face-to-face meeting, in public, of our elected leaders on the Waynesboro School Board and Waynesboro City Council?
Would you be surprised to know that those sort of conversations about the condition of our high school, or our two oldest elementary schools for that matter, haven't taken place in nearly 15 years? Would you be surprised to know that after the mutual agreement was made to take 42.5% of our real estate off the top and use that to fund our school system…that our governing bodies stopped talking nearly all together about the future of our school system? Our largest, and most important investment? Does that seem right to you?
I've researched meeting minutes and agendas of each and every council meeting since the year 2000, then confirmed their accuracy with the City of Waynesboro Clerk of Council. The following timeline not only illustrates this breakdown in communication, but the declining frequency of Joint Waynesboro City Council and Waynesboro School Board meetings in general, following the creation of the 42.5% tax agreement.
Our elected leaders have got to start talking to one another, not tomorrow, but today. I'm ready to start that conversation, as frequent as necessary. In the end, we're in this together. The success of our school system, is the success of our city. It's time to start making decisions together, our future is counting on us.
(SOURCE: City of Waynesboro Clerk of Council, Sep. 2015)