"Thanks for visiting and checking out my website. My hope as you look around, is that you take the time to imagine the kind of Waynesboro that you want for your family, your business, and your retirement. Think about the first thing you'd do to prepare for the future of our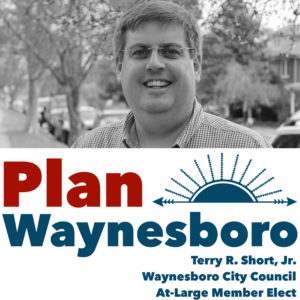 community? What steps would you take to make our community
competitive again, to help create good paying jobs, make right sized civic investments, and diversify our tax base? The time has come for purpose, for vision, and for action in Waynesboro…and it's got to involve more than one voice. Our City needs your voice, your ideas, your talents, your gifts, and your time. As the incoming At-Large member of the Waynesboro City Council, I'm counting on you to help me be the voice of a new generation of ideas to create a stronger and more sustainable Waynesboro.
It's time to "Plan Waynesboro."
                – Terry